News
Corriere della Sera and BPER Banca award De Angeli Prodotti for Innovation and Resilience
calendar_today Wednesday 20 October 2021
De Angeli Prodotti received the Bper Banca Resilience and Innovation Award during an event presented by Corriere della Sera.
The important Italian Newspaper "Il Corriere della Sera" is going through Italy to document the business excellences active in the various regions, and made a stop in Veneto this October with a new episode of its "The Economy of Italy" format, broadcast in live streaming on Corriere.it.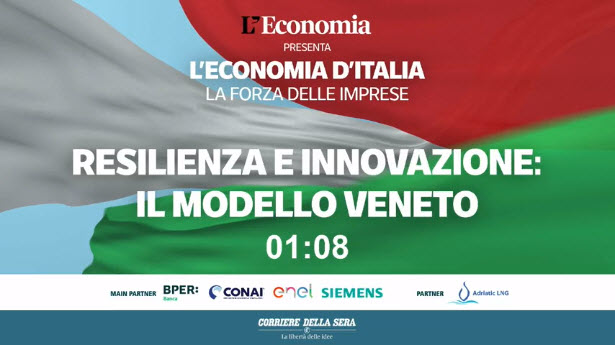 Several protagonists of important companies of Veneto region (Nicolò Ferracin, commercial director of Sdr Pack, Paolo Tramonti, president of Bios Line, Alberto Stella, president of Estel and Massimo Tonini, general manager of Grappa Nardini) presented their business model and witnessed the ongoing strong economic recovery, which regards several important sectors in the Veneto economy, from pharmaceuticals to food processing.
During the event, De Angeli Prodotti received the BPER Banca "Resilience and Innovation Award", together with Gibus, a company active in the production of awnings and pergolas, represented by the Managing Director Alessio Bellin, and Cereal Docks Group, an agri-food processing company, present with the President and CEO Mauro Fanin.
Giancarlo Guazzini, Head of the Triveneto Regional Management of Bper Banca, stressed that the awarded companies have proved resilient thanks to the introduction of timely innovations, which have allowed them to obtain good economic performance, in this historical period made complex by the pandemic.
The speech by Luca Mora (president of De Angeli Prodotti)
Luca Mora, President of De Angeli Prodotti, thanked for the attribution of this doubly welcome award, because Resilience and Innovation represent two of the company's core values, together with Quality, Balance and Team Spirit described in our "Who we are" page on our website.
"De Angeli Prodotti has made innovation more and more pervasive in the company, involved all collaborators, customers and suppliers in this process, and increased the number of engineers dedicated to Research and Development, committed to projects that are also very ambitious and with long time horizons." – Explained Luca Mora during the round table – "The new ACCM conductors with light carbon fibers, for the transmission of very high voltage energy were conceived at the beginning of the millennium, patented in 2006 and the first major contract for thousands of km was acquired in 2020.

The anti-theft conductors for the railway sector – Aimed at replacing copper – took a decade from their invention to industrial use. "
Make us dream! Tell us something that will be on the market in 10 or 20 years?
Mora was asked, and here is his answer:
"The most important concept we have in mind is the creation of Smart Conductors, that allow to make the transmission networks more and more intelligent, thus allowing to reduce energy costs and the need to invest in new energy generation Plants. "