Research & Development
E-mobility
calendar_today Wednesday 20 September 2023
The advent of e-mobility represents an epochal turning point in the automotive sector. De Angeli Prodotti is ready to offer the best products for this sector!
In 2023, we are witnessing unprecedented historical consequences of climate change in terms of severity and relentlessness. Therefore, addressing the challenges of climate change, air pollution, and the ongoing decline of fossil fuel resources in all feasible areas appears more than ever a priority. E-mobility (electric mobility), namely electric vehicles, has now become a viable alternative to traditional internal combustion engine vehicles, provided they are made sustainable not only in terms of development and consumption but also in terms of everyday use.
---
1. E-mobility: a change in progress
The advent of e-mobility represents an epochal turning point in the automotive sector. New green policies, growing public demand, and the entry of new players into the market are accelerating this process of change. In the last three years, e-mobility has ceased to be merely a "strategic reflection" and has become a key aspect for over 65% of automotive companies, a testament to a rapidly evolving industry rich in opportunities for innovation and growth.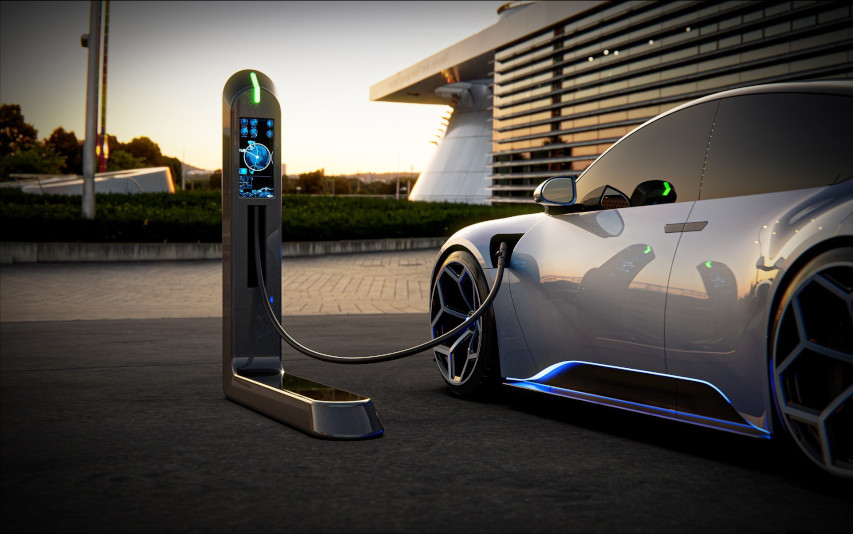 ---
2. E-mobility: a little reflection for the environment
One of the most intriguing advantages of using electric vehicles is the zero emissions of exhaust gases, which not only reduce air pollution but also provide a significant improvement in air quality.
This is indeed a very serious issue: according to a report by the European Environment Agency (EEA) that involved 344 European cities in 2021, the situation of Italian cities is alarming. The document focused on long-term concentrations of PM2.5, as long-term exposure to air pollution causes the most severe health effects, and PM2.5 is the air pollutant with the highest impact on health in terms of premature death and illnesses. Furthermore, on March 21, 2023, Milan was the third most polluted city in the world, after Tehran and Beijing.
---
3. E-mobility: public and private actors
Today, e-mobility encompasses cars, buses, scooters, bicycles, and in the future, even ships and airplanes. The adoption of electric mobility is not limited to private individuals; public transportation is also adapting to the change, with electric buses now replacing diesel-powered ones. Moreover, in large cities, it is already possible to rent electric cars, bicycles, and scooters at affordable prices.
---
4. E-mobility: the future, between challenges and advantages
Predictions about the future of e-mobility point to a radical change in how we perceive vehicles and mobility. It is anticipated that within a period of 5 to 10 years, autonomous vehicles will become more common on the roads, and people will prefer shared vehicle ownership over exclusive ownership. These once futuristic prospects are now driving the development of new e-mobility strategies. Navigating this transition phase will be crucial for companies, as failure to innovate or make the right choices could risk losing a competitive edge.
However, electric vehicles also need to address three important fundamental challenges for their mass adoption:
Charging infrastructure: essential for overcoming the fear of running out of battery and lacking access to charging stations, the construction of a robust infrastructure network is crucial, capable not only of ensuring presence but also greatly accelerating charging times. Today, the average charging time ranges from 2 to 4 hours at "regular" stations and about 30 minutes at fast stations. Let's imagine being at a highway service station with many cars needing to charge simultaneously and within a few minutes. How can this limit be overcome? And as for the battery size?
Renewable energy sources: crucial for maximizing environmental benefits, but also for fundamental consistency, as relying on electric mobility while depending on energy derived from fossil fuels is unsustainable.
Cost of electric vehicles: essential to encourage purchases, especially among private individuals, is minimizing the cost difference between electric cars and fuel-powered vehicles.
---
5. De Angeli Prodotti: the hairpin motor and the innovation in the production process
When discussing electric mobility, we are talking about an electric vehicle powered by an electric motor with rechargeable batteries that store the electricity to operate the vehicle.
Hairpin motors represent an advanced technology in the e-mobility sector, and their production requires sophisticated and precise processes.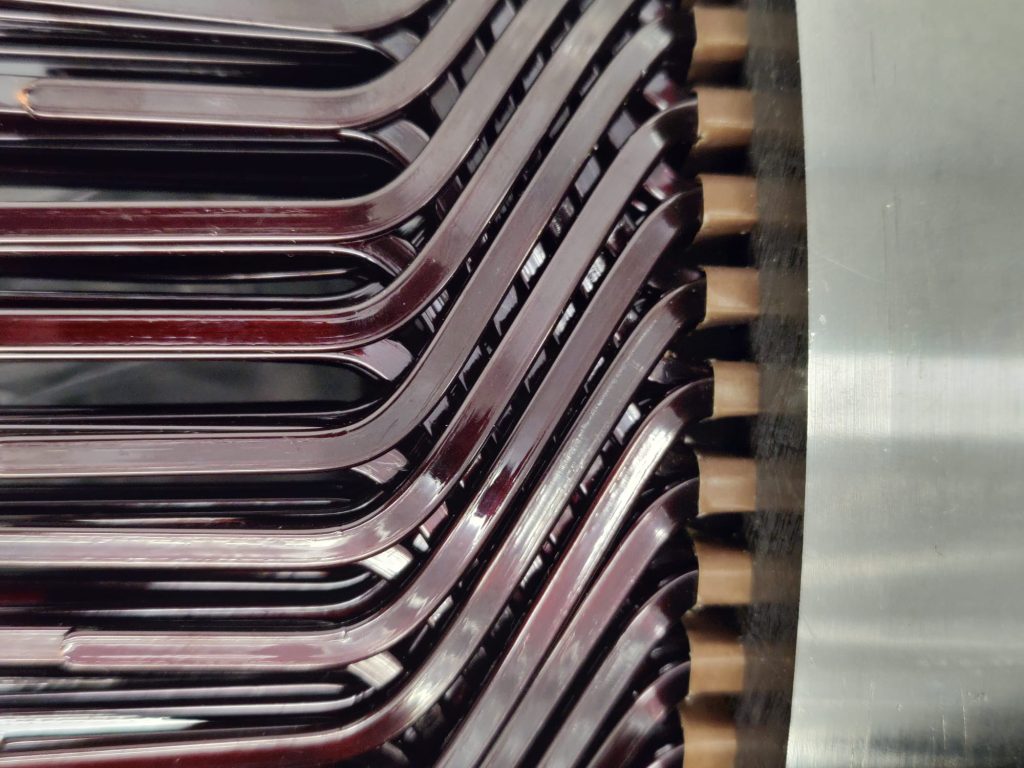 These motors use insulated flat strips instead of traditional round wires for the stator construction. The stator comprises the fixed parts that serve a dual purpose: supporting the system and containing its individual components. In the stator production process, the flat strips are positioned within specially designed slots. Laser welding is employed to connect the flat strips together, creating a complete electrical circuit. Subsequently, the stator is impregnated using a layer of epoxy coating to shield the welded areas and ensure greater resilience to environmental conditions.
The flat wires used in the construction of hairpin motors have a rectangular shape that allows for better space utilization, making copper filling more efficient (approximately 20% more). This results in a stronger magnetic field, increased torque, and lower energy consumption. De Angeli Prodotti, such as insulated flat wires for hairpins, contribute to the advancement of this technology, offering optimal performance and improved thermal management. They enable the creation of high-quality hairpin motors with enhanced efficiency, reliability, and long-term durability.
---
6. E-mobility: the corporate vision of De Angeli Prodotti
De Angeli Prodotti embarked on this journey in 2019 by establishing a dedicated team for the automotive sector.
The new technical challenges posed by Tier 1 / OEMs have received a substantial response from us:
Hairpin technology (high-efficiency electric motor winding technology);
Production of high-quality products;
Reduction of imperfections and defects during the production process;
Establishment of a laboratory for partial discharge measurement;
Thicker insulation and perfect geometries;
Continuous and uniform mechanical properties;
Online detection of defects in the existing enamel oven.
Thanks to our efforts, we currently have four dedicated lines for e-mobility projects, supplying two significant players in the e-mobility sector: Mahle and Marelli.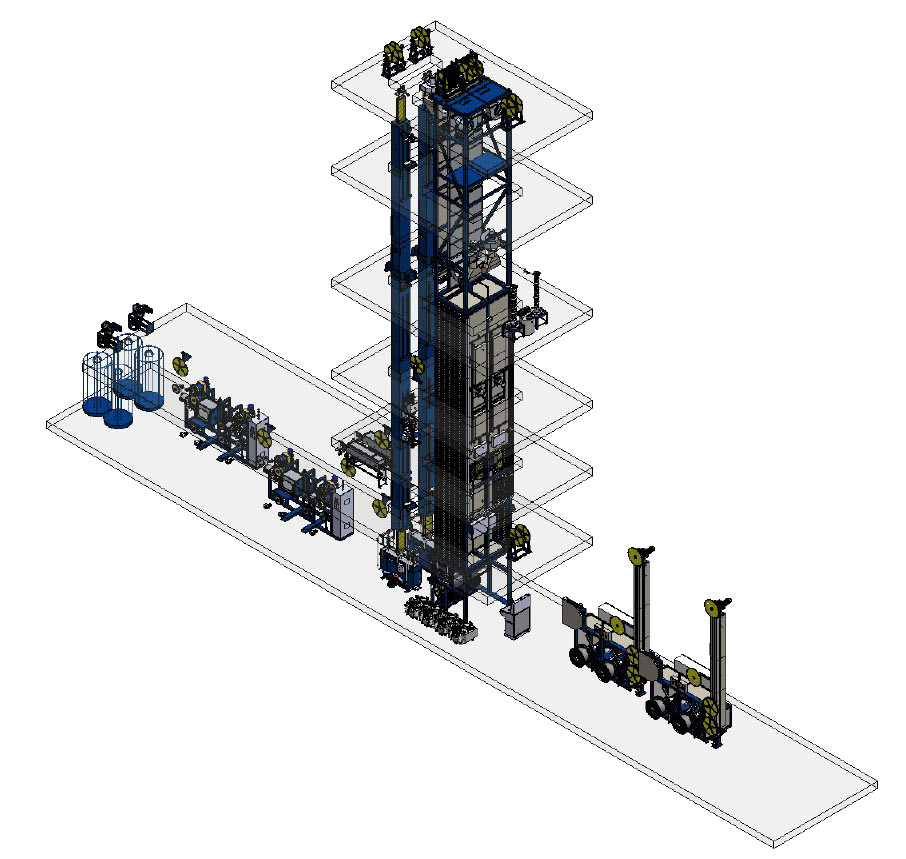 De Angeli Prodotti has initiated an investment policy for the development of a new factory entirely dedicated to the e-mobility sector. The installation of four enameled flat wire lines is planned by 2023, with a production capacity of 2,000 tons per year. Over the course of 3-4 years, an additional 12-16 new production lines are anticipated to be permanently installed. With these production lines operating at full capacity, we can ensure our customers a production capacity of 6,000-8,000 tons per year.
6.1 E-mobility: the solutions offered by De Angeli Prodotti
Enamelled Conductors: Enamelled conductors are a type of copper wire coated with an insulating enamel layer. These wires are used for the development of high-performance electrical windings. De Angeli's enamelled conductors are designed to offer a range of superior features, including a section of up to 20 mm2, a thermal class of up to 220, resistance to high voltages (PDIV > 1 kV), an enamel upgrade of up to grade 3+, and good compatibility with ATF (Automatic Transmission Fluid) and cooling oil. These enamelled conductors are flexible, allowing for greater adaptability in applications.
Copper Flat Wires: Copper flat wires are a type of wire with a section of up to 20 mm2. These wires are designed to provide high electrical and thermal conductivity. They have a thermal class of up to 220, high resistance to high voltages (PDIV > 1 kV), an enamel upgrade of up to grade 3+, and excellent compatibility with ATF and cooling oil. De Angeli's copper flat wires are highly flexible, ensuring ease of installation and adaptability to various design needs.
Polyimide wrapped Conductor: Wrapped conductors are flat wires insulated with a layer of adhesive polyimide. This wire is designed to provide high thermal insulation and excellent voltage resistance. It has a section of up to 20 mm2 and a thermal class of up to 200. It features high insulation of up to grade 3 and good compatibility with ATF and cooling oil. The flexibility of this wrapped conductor allows for greater adaptability and ease of installation.
Litz Wire: Litz wire is composed of individual copper or aluminum wires braided together. This type of wire is widely used in high-performance electric motors to reduce losses caused by parasitic currents. De Angeli offers round and rectangular Litz wires with a section of up to 320 mm2. The individual wires have a diameter of about 0.05 mm for copper and 0.2 mm for aluminum. They are insulated with high-temperature materials and offer excellent thermal resistance. The outer protection can be made from materials like polyester, Nomex, and Mica-Glass, along with polyimide. These Litz wires enable higher efficiency and performance in electric motors.

---
7. E-mobility: conclusions
Electric vehicles represent a revolutionary change in the transportation sector, being cleaner, greener, and more sustainable compared to combustion engine vehicles. Thanks to political support, their growth is on the rise and has the potential for significant expansion by implementing a range of essential technological advancements to enhance their efficiency, costs, and operability.
Through its commitment to the e-mobility sector, De Angeli Prodotti positions itself as a key player with its technologically advanced high-quality products, supporting the transition to sustainable and efficient mobility. Our goal? To continue investing in innovation to meet the growing demands of the industry and exceed our customers' expectations.
Embracing electric mobility isn't just a business choice; it's a heartfelt decision driven by the future we want to leave for the generations that come after us, starting with our children's generation.