News
IATF16949 Certification: an important milestone has been achieved
calendar_today Thursday 18 May 2023
We have obtained the IATF16949 certification, which demonstrates our commitment and the quality of our work in the Automotive sector
We are extremely proud to announce that we have obtained the IATF16949 certification, which demonstrates our commitment and the quality of our work in the Automotive sector. However, this does not mark the end of our journey but only the beginning.
We will continue to invest in our dedicated E-mobility team and our technological know-how with the aim of expanding the supply of Magnet wires for the sector.
We are expanding in the E-mobility market: clean energy serving sustainable mobility
De Angeli Prodotti is at the forefront of the Green Revolution: 30 years of experience in the Energy sector have allowed us to develop Magnet Wires suitable for all types of electric machines, capable of improving reliability and performance. Motors, transformers, generators, high-frequency applications! A portfolio of highly advanced products that can meet future challenges in the world of energy.
The challenge of Electric Mobility is one of the cornerstones of the energy transition: it represents an opportunity to reduce dependence on fossil fuels and promotes the development of innovative and sustainable technologies. Based on these principles, a few years ago, we made the decision to include the Automotive market, specifically the E-mobility sector, in our business model.
A journey in e-Mobility that started in 2018
In 2018, a dedicated Automotive team was established, consisting of various departments within the company: R&D engineers, Quality engineers, Production Technologists, and Project Managers.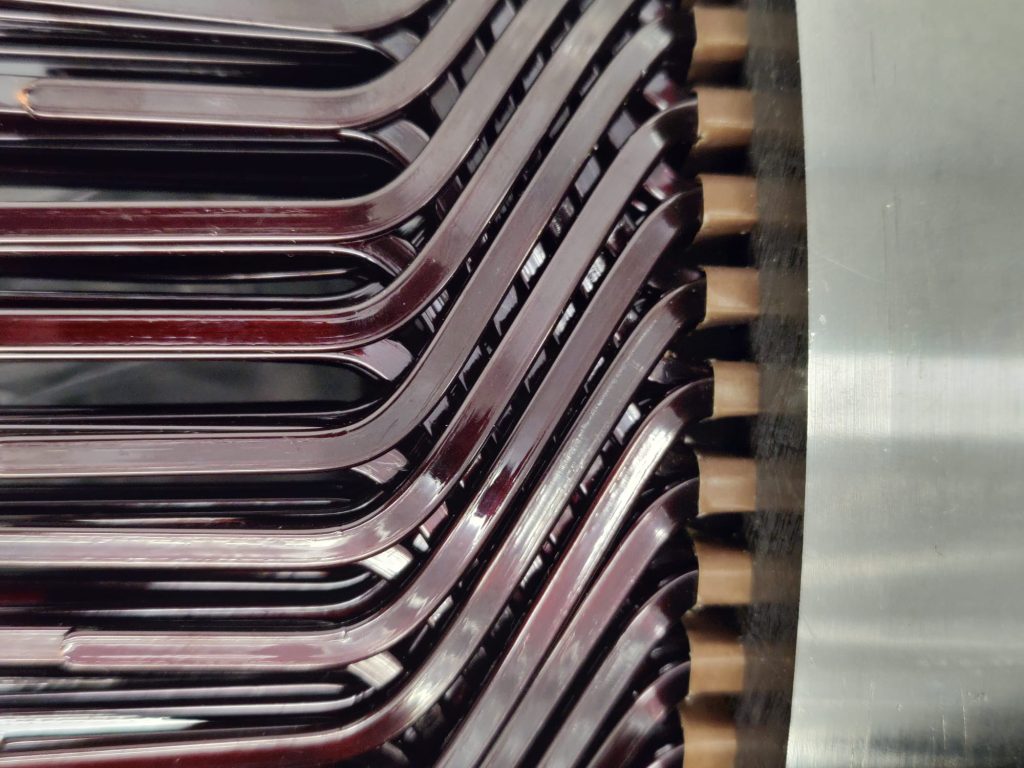 The highly demanding quality standards required by Tier 1/OEMs have allowed us to grow in numerous aspects:
We have expanded our expertise in partial discharge by establishing a dedicated laboratory.
Our enamels are now evenly distributed across the entire cross-section of the copper wire.
And our process is perfectly configured for the subsequent hairpin forming.
Thanks to our efforts, we currently have 5 enameling lines fully dedicated to two major Tier 1 companies in the E-mobility sector, and the overall plan is to expand up to 16 enameling lines.
Our commitment to environmental sustainability and decarbonization is increasingly at the forefront of our business, and we look to the future with enthusiasm and determination.